Big Brothers Big Sisters of the Alamo Area



Main Page - Agency Purpose & Impact - Volunteer Options - Getting Started
Map Location - Frequently Asked Questions - Events
---
AGENCY PURPOSE & IMPACT
---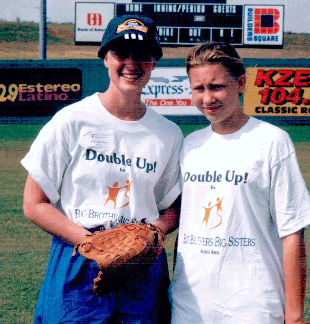 Big Brothers and Sisters, Alamo Area was established in 1976 and began matching single-parent children to supportive adults in 1978. The mission of the organization is to promote the positive development of at-risk youth from single-parent families by providing opportunities for them to experience healthy, one-to-one relationships with caring adult volunteers. Over 400 match relationships are supervised by professional caseworkers each year. Caseworkers are responsible for volunteer screening and training, child assessment and match supervision. The agency tracks outcomes for children as a result of the match relationships which include improvement in ability to form relationships, positive self-confidence, improvement in school attitudes, performance and behavior.
In a recent national study completed in 1995 (entitled Making A Difference: An Impact Study of Big Brothers Big Sisters), researchers found that young teenagers matched to Big Brothers or Big Sisters for about one year, when compared to their peers who were not matched, were:
46 percent less likely to begin using illegal drugs

27 percent less likely to begin using alcohol

52 percent less likely to skip a day of school

37 percent less likely to skip a class

More confident of their performance in schoolwork

Less likely to hit someone

More likely to get along with family members and peers
The San Antonio agency was one of eight sites across the nation to participate in the study conducted by Public/Private Ventures, a national research organization based in Philadelphia. The first nationwide impact study of any major mentoring program, the project was funded by the Lilly Endowment, an anonymous donor, the Commonwealth Fund and the Pew Charitable Trusts. "These dramatic findings are very good news, particularly at a time when many people contend that 'nothing works' in reaching teenagers," said Gary Walker, president of Public/Private Ventures.
---
Big Brothers Big Sisters, Alamo Area
202 BALTIMORE - SAN ANTONIO, TEXAS - (210) 225-6322

---